Ghost In The Graveyard
By Mary and Shari Clapper
Oooh... Ghost In The Graveyard. It's Hide And Seek turned on its head and creepified. Scaaaaaary!
The basics of the game are pretty simple. Start with a bunch of kids, one of them is "it". Now with regular Hide And Seek the person who is "it" counts to a zillion and ten while everyone else runs and hides. With Ghost in the Graveyard everyone else counts to a zillion and ten while the person who is "it" has to run and hide, hopefully not some place cramped. Then, once everyone is done counting, they all run around trying to find where the "it" kid is hiding. Now when someone finds where that kid is hiding, they don't shout out that they found him. Instead they have to hunker down and hide with that kid. The game continues with kids finding the hiding spot until only one kid is left. Then when that kid finds where, now, everyone is hiding, all the kids jump out and yell, "Boo!!!" Then that last kid becomes "it" for the next round.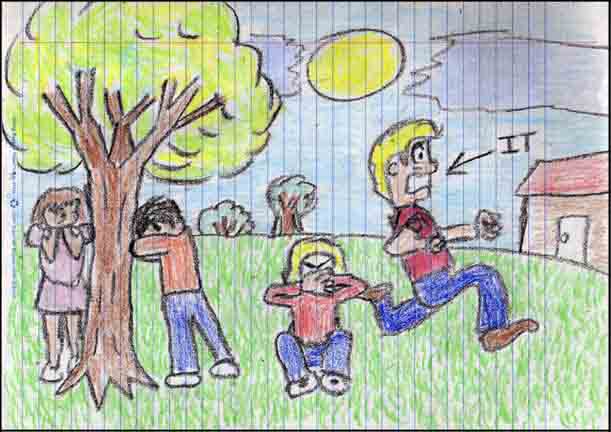 You might know this game but by another name. It's also called Sardines. The name difference probably comes from the fact that even though the rules are the same pretty much everything else involved is totally different. Who's playing, when it's being played and where it's being played and.
First "The Who". What a band. No wait... Whether you are playing Sardines or Ghost In The Graveyard depends on who's playing. I think older kids playing without an adult around are more likely to be calling the game Ghost In The Graveyard. Younger kids? More likely to be a bit freaked out by the name. I think by "Graveyard" more than by "Ghost". Tons of "Ghost" games around. On top of that with little kids there's more likely an adult around and that adult is more than likely going to want and go with the cuter, less scare-licious name.
Then there is the element of when you are playing. If you're playing in the middle of the afternoon Sardines makes more sense. The biggest part of the game in that case is cramming yourself into a hiding place with half a dozen other kids. Not going to be too scary. But if you're playing at night? Hey, things get a little spookier in the dark and now the scary name fits.
But wait we still have location, location, location. If you're playing in the front yard, especially in the daytime, Sardines. But in our area there was a nearby cemetery. You start playing the game not just at night but in ye old bone yard? You're running around in the dark in a cemetery... as people find the hiding place they disappear one by one until you're alllll alone in the night, in a graveyard. And then in the end they all leap out and yell at you! Yowza! This scenario also goes back to who is playing. Little kids are less likely to be running around in a cemetery late at night, because it's too scary or it just seems wrong or because there is no way in hell the folks are saying okay when a five year old asks if they can go play in the cemetery after dark.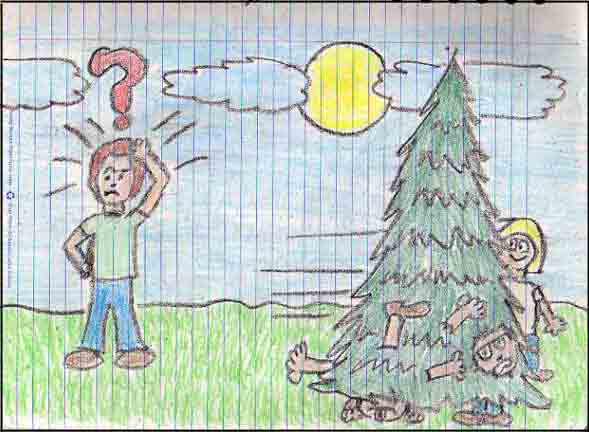 But you don't need a graveyard for hiding excitement in this game. Take it away Shari...
Well,... For Ghost In the Graveyard, I remember hiding under an evergreen tree (variety: The prickly kind, but that's all I remember- I THINK it was in Holbrook's front yard by the garage). It was a very good hiding place except that I and the other hiders got lots of ouchies.
Okay, on the surface as scary but, dude, those tree prickers are real world nasty as opposed to just-in-your-head spooky.Really, seriously... ouch!
As a post script, nobody from this site is recommending or endorsing heading out to a cemetery to play yard games. I mean, in our neighborhood there happened to be an old cemetery easily accessible without muss or fuss. But most graveyards have walls and likely someone keeping some sort of watch and... well if you get caught and grounded until you're nearly ready for the grave yourself, don't come crying ta me.
Poobala.com Main Page/Thom Holbrook's Hollywood Homepage/ Email Me